Lucy Duggins
31 January 2020 10:16:36
In the summer of 2020 Autoclenz Sales Director Martin Peters and Autoclenz Head of Southern Retail Steve Jones, along with 9 friends (Chris, Rob, Tom, Simon, Harris, James, Matty, Mike, Neil) will embark on a journey around Britain in their classic Austin Maestros to raise money and awareness for Prostate Cancer Research Centre and Prostate Cancer UK.
The Maestro Madness 2020 Road Trip route will include locations beginning with the letters P.R.O.S.T.A.T.E
P ickering 29th August
R ipon 30th August
O xford 26th August
S ilverstone 27th August
T elford 27th August
A mbergate 28th August
T adcaster 28th August
E ttington 27th August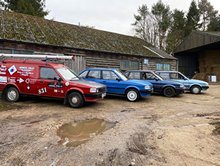 Follow the #MaestroMadness2020journey on Twitter (
@maestroroadtrip
), Facebook (
Maestro Madness 2020
), Instagram (
@Maestromadness2020
) and YouTube (Maestro Madness).
Click the link below for more information or to donate!
https://uk.virginmoneygiving.com/fundraiser-display/showROFundraiserPage?userUrl=maestromadness2020&pageUrl=3
#MaestromADNESS2020#ProstateCancerAwareness#ProstateCancerUK#ProstateCancerResearch#TeamPCRC#AustinMaestro#Autoclenz